Massage Therapy in Midlothian
I tell all patients that it's a good idea to have a massage. They're great, and I get them! Dr. Tyson
Is Massage Therapy For Me?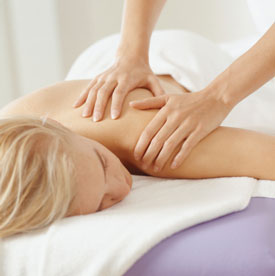 Here at Advanced Care, we combine the use of Therapeutic Massage with Chiropractic in order to achieve deliberate change to your problem areas. Our techniques are designed to:
break down old and new spinal, or muscle scarring and adhesions
increase blood flow to muscles or injured areas
relieve pain in problem areas
decrease spasms or trigger points
specifically treat your condition(s)
While Therapeutic Massage is known to be invasive, the Massage Therapist will always inquire about your comfort level; and make sure to keep the depth of pressure to a level of which is enjoyable. Do not be afraid to let your Therapist know if the pressure is too deep, as the session is ultimately tailored to your comfort.
---
Before Scheduling a Massage
Know that it's a right time for you to be receiving Massage. Make sure to reschedule your visit if you're trying to stabilize a new medication, or if you have persistent coughing, a running nose, a fever, or skin irritations (such as sunburn or poison ivy). MORE ABOUT BEFORE SCHEDULING A MASSAGE
You want to make sure you're well hydrated the days leading up to your massage, so remember to drink lots of water. Massage is known to stimulate digestion, so if you're going to eat before your session; make sure to do so a few hours before hand and make it a light meal. Most importantly, you want to arrive at least 15 minutes before your scheduled appointment time; failure to do so will take away time from your session. This time is used for a Pre-Massage Consultation, where we will go over your Intake Form that you will have received by email the day you scheduled your Massage; other forms will need to be signed upon your arrival (*Massage Therapy Terms and Conditions & Informed Consent)
Intake Form & Pre-Massage Consult
The Intake Form is to be completed and submitted BEFORE your appointment. Please remember that Massage does affect the Cardiovascular and Nervous System, so please be as specific and honest as possible when filling out your form. MORE ABOUT PRE-MASSAGE CONSULT
Note that we will ask diverse questions in relation to what has been marked on your form, but will also ask other questions that might be related to lifestyle choices, or life-stressors. This is to accomplish our goal, to make the session as peaceful as possible; and as tailored to your needs as we can. Know that you can ask us any questions at any point, whether that is before, during, or after your session. You should at all times be comfortable speaking to her. Before you are taken back to the room for your session to begin, we will outline what will happen during your session before guiding you down the hall. She will remind you of using the bathroom facilities beforehand, show you to the room with instructions to dress down to your comfort level. We will instruct you how to position yourself on the table; before she will leave you in private to get settled. Once you're ready, make sure you're underneath the sheet or other draping provided on the table. We will be sure to knock before re-entering.
During the Massage
Make sure to keep us aware of how your level of comfort changes when she inquires. Tell us if you don't want to be touched in a specific area, if you don't like the music, if the pressure is too deep, or not deep enough. Also let know if you're too hot, or too cold. Never let your level of well-being go overlooked; the session is based around your level of comfort, don't forget that you're in charge and can ask for the session to be stopped at any time. MORE ABOUT DURING A MASSAGE
Things that are common to occur during a Massage may be dozing off, drooling, snoring, increased blood circulation, or even flatulence; so don't be embarrassed if these things happen to occur for you. We may even have you assist your therapist with moving your body for stretching, or have you move yourself to different positions during the session; which she will softly engage you, if needed.
Draping
Your body will only be uncovered when areas are being worked. While covered by a sheet or other draping material lying on a table; your genitals or private areas will never be exposed or worked. Any request by our therapist or the client will have the session terminated immediately.
Music
This is also a part of your session that is meant to be accommodated to your comfort; so let us know your musical inclination in your paperwork. Typically, we will play music during a session. If you prefer silence, tell her. If you have a music preference, feel free to bring your own CD; we will also keep it in your file to play during your sessions.
After the Massage
When the session is finished, we will leave you to dress privately. Make sure to follow instructions regarding slowly getting off the table; as some people have been known to get light-headed after Massage. Take your time getting ready, we do not want you feeling rushed, but please be respectful of our schedule; and be mindful we book appointments with 20 minute intervals. MORE ABOUT AFTER THE MASSAGE
Post-Massage Consult
In the waiting area, we will offer you a complimentary bottle of water. This is to help start the re-hydrating of your muscles and help with flushing metabolic waste that's been released through the session. It's up to you to continue hydrating after the session; failure to do so could lead to muscle spasms/cramping, dizziness, or headaches. We will sit with you and discuss after care recommendations, and set your treatment plan for going forward with care.
Contact our office today to schedule an appointment and discuss if massage therapy is right for you. (804) 745-8745 CONTACT US »

Midlothian Massage Therapy | (804) 745-8745