Massage Therapy in Midlothian
Discover Deep Healing & Relaxation With Therapeutic Massage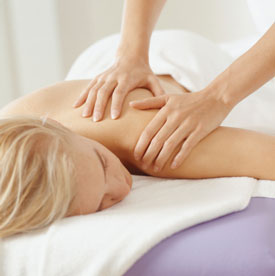 Here at Advanced Care, we combine the use of Therapeutic Massage with Chiropractic in order to achieve deliberate change to your problem areas. Our techniques are designed to:
break down old and new spinal, or muscle scarring and adhesions
increase blood flow to muscles or injured areas
relieve pain in problem areas
decrease spasms or trigger points
specifically treat your condition(s)
Ready to get started?
Call (804) 745-8745 or book an appointment online now!
Lisa Sargent, LMT
Lisa is a Virginia Board of Nursing Licensed Massage Therapist. She graduated from The American Institute of Massage (Fortis College) in 2011.
Lisa specializes in a variety of massage modalities, and has a passion for palliative care. She individualizes each patients massage to incorporate pain relief while promoting healthy and healing lifestyles.
Call (804) 745-8745 or book an appointment online now!
Licensed Massage Therapy in Midlothian
We're located on Hull Street Road, which intersects Genito Road, near the new Bojangles' and Gabe's Department store.
Richmond Chiropractor
Proudly Serving the Midlothian and Richmond Communities.